Buyers Guide: Bathroom Remodel Vienna
If you're considering a bathroom remodel Vienna professional then take a look through some important parts of the process we have highlighted in this guide to help you make an informed decision.
Your master bathroom is supposed to be the place where you can truly relax and refresh yourself and spend time going through your daily preparation routine. If your bathroom is old, run down and dirty then it can make the place you are supposed to be at ease seem more like a burden then a place you can enjoy and pamper yourself.
If your sanctuary is a sore spot in your home then you are not the only one. Bathrooms are second only to kitchens on peoples remodeling bucket list. Given the complexity of bathrooms—multiple components in a compact space, not to mention all that water—doing the project right can be a challenge.On a cost-per-square-foot basis, bathrooms are one of the most expensive spaces to redo so it's important you find a bathroom remodel Vienna professional who understands your needs and can accomplish them within your budget. Beckworth LLC prides itself on meeting and exceeding customer expectations without costing you a fortune.
This guide is intended to help cover the most important parts of the bathroom remodeling process, including new toilets, sinks and countertops.
Bathroom remodel Vienna cost and how to budget
How much should you spend on your master bathroom? A rule of thumb is that the total project—including materials and installation—should cost no more than 5 to 10 percent of your home's value. The National Kitchen & Bath Association (NKBA) puts the national average at about $16,000. Another guide is Remodeling Magazine's Cost vs. Value report, which compares the average cost of various renovation projects with the value they retain at resale. Here's how the NKBA breaks down the budget for a typical bathroom remodel:
Labor: 20 percent
Cabinetry and hardware: 16 percent
Fixtures: 15 percent
Faucets and plumbing: 14 percent
Countertop: 7 percent
Floor: 9 percent
Doors and windows: 4 percent
Walls and ceiling: 5 percent
Lighting and ventilation: 5 percent
Design fees: 4 percent
Other: 1 percent
Five small details that make a big difference
These details aren't necessarily cheap, but if there's room in your budget, they can help turn a good master bathroom remodel into a great one.
1. Radiant flooring. This heating system will not only keep your floors warm underfoot on cold mornings, it will accelerate drying, reducing the risk of slips and falls.
2. Stain-resistant grout. Though it costs more than traditional grout, stain-resistant formulas cut down on tedious cleaning. Thinner, darker grout lines can also help.
3. Skylights. Natural light is desirable in any room, but for bathrooms located deep within a home, windows may not be an option. A skylight is an excellent way to flood a room with sunlight, assuming it's on the top floor of your home.
4. Heated shower mirror. A fog-free mirror makes it easy to shave or remove make-up in the shower. That's particularly helpful in master bathrooms with a single vanity.
5. Framed mirrors. Besides the fact that wall-to-wall mirrors have become passé, framed mirrors present a design opportunity. Match the profile of the mirror frame with the moldings for a coordinated look, or choose something very different to create a focal point.
The budget-friendly makeover
Here are a few ideas to consider for a budget-friendly friendly remodel covering more basic changes:
Replace the vanity with a new wood model that has a stone counter.
Add a new mirror and faucet. Alternatively, keep your current vanity but replace your toilet and faucet and add a new vinyl floor.
Improve lighting and ventilation with a new combination light and exhaust fan. One with a heat setting will keep you from getting chilled when you get out of the shower.
Add a set of sconces on either side of the mirror or medicine cabinet.
Update towel bars, hooks, toothbrush and toilet paper holders, and cabinet hardware. Add matching shelves for your towels and toiletries.
Switch your standard showerhead to one with multiple settings, including a pulsating or massage setting.
Keep your towels toasty with a heated towel bar, some of which cost $100 or less.
Secondary bathroom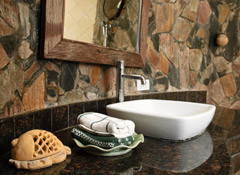 Its a fact that the master bathroom gets most of the remodeling dollars, but the average home has one or moer bathrooms, and if it doesn't then maybe its time to add one? Here are some things to consider for your secondary bathroom remodel Vienna home space.
Powder rooms
These compact spaces are often tucked into nooks in the home, such as converted pantry closets or the cavity beneath a staircase. They're all about economy of space.
Streamline. A sink and toilet are the only must-haves in a powder room. A round toilet bowl takes up less room than an elongated one and in these areas conserving space is a must.
Accessories. With so few accessories to consider, you can spend more on those you do need. Invest in a nice sink and tiles on the wall.
Kids and guest bathrooms
A secondary bathroom is typically for kids and guests but that doesn't mean it it should be a place you don't take pride in.
Focus on durability. These surfaces will likely have a lot more wear and tear than the master as more guests or children will be using it so try and use more durable surfaces and fixtures. Plastic laminate flooring and countertops are durable and inexpensive, plus the kids likely don't care if they have high-end materials.
Don't forget the bathtub. You might not take baths, but every home should have a bathtub.
Remember ventilation. A bathroom fan is critical in high-traffic bathrooms where the shower is going all morning.
If you are considering a Bathroom remodel Vienna professional please give us a call to ask for advice and a free in-home estimate. We would be happy to go over your options and really help you plan out making improvements to your home. You can call us at (703) 570-6777, contact us here or message us on Facebook.