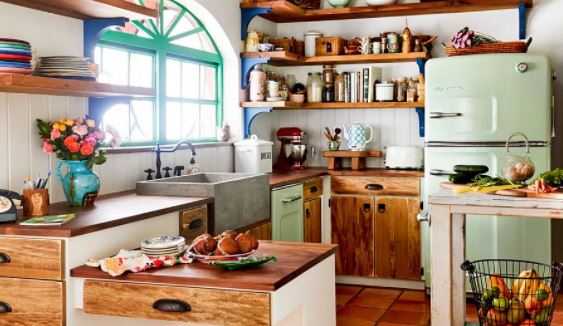 12 Popular Kitchen Styles to Consider for Your Home
When it's time to remodel your kitchen, it pays to consider the style you want to capture when it comes to your new kitchen remodel in Northern Virginia there is no exception. After all, you will be living with your kitchen for many years to come so you want a good combination of function and aesthetics. Picking a theme or style for your kitchen can help you narrow down your options in terms of cabinet style, color, and details, but you're also free to mix and match styles that speak to your personality. Here are 12 popular kitchen styles worth considering.
Kitchen Remodel in Northern Virginia
#1. Craftsman
You may be familiar with Craftsman style homes. This style of American design, which was part of the Arts and Crafts movement, began in the early 20th century in response to the mass-produced and ornate style of the Victorian era. Craftsman style kitchens feature beautiful rich wood, built-in features like seating, and a simple yet classic design with clean lines. The Craftsman style isn't trendy or likely to go out of style with its focus on quality craftsmanship, earth tones, and natural stone.
#2. Mediterranean
Want something bright, warm, and different than your neighbors? A Mediterranean style kitchen features an exotic color scheme and ornate details that make you feel like you're in a cottage by the ocean. The hallmark of a Mediterranean kitchen is a warm, rich color palette with bright reds, terra cotta, ocean blue, and brilliant yellow. This style also features large curves and graceful shapes everywhere, including faucets, light fixtures, and range hoods. Hand-painted tilework, tile floors, and wrought iron are also common.
#3. Classic
If you aren't sure if bold is the way to go with your kitchen, you may prefer the simplicity of a classic style kitchen. Classic kitchens can vary a great deal in design but they tend to feature cream or white cabinets, black accents, and simple architectural details without ornate designs. Classic kitchens can be very upscale with stainless steel appliances, white subway tile backsplashes, and black granite countertops. This style is also easy to customize with elements from other design styles.
#4. Farmhouse
Farmhouse kitchens are warm, cozy and a great way to anchor your home. Farmhouse style kitchens often feature open shelves and large farmhouse kitchen tables made from high-quality wood. One of the most important focal points of a farmhouse kitchen is the large farmhouse sink with a wide, deep basin usually made from porcelain. A farmhouse kitchen can be homey and comfortable or it can incorporate modern elements. Storage in a farmhouse kitchen usually reflects a functional down-home theme. Along with open shelving, the kitchen may have other forms of open storage like cookware on display over the island or stove.
#5. New England
New England style kitchens aren't just for Massachusetts, Rhode Island, and other areas of New England. This style is inspired by architecture and design of the region, combining farmhouse, coastal, traditional, and rustic charm. Navy and lighter shades of blue are common in New England style kitchens, including the cabinetry. Many kitchens of this style also incorporate crisp white elements, quality woodwork, farmhouse tables, Shaker-style cabinetry, and pops of red and yellow.
#6. Contemporary
Contemporary kitchens are among the most popular as they can be playful, sleek, and creative. The most dominant elements of a contemporary kitchen include geometric forms, clean lines, and a focus on function. Full overlay cabinetry is common with none of the door frame showing. There is a focus on simple, sleek lines, which includes bar-style hardware over ornate styles. Most contemporary kitchens boast cutting-edge appliances and features as well as the use of old materials in a modern way, such as glass or concrete countertops. The biggest tell-tale sign of a contemporary kitchen is its mix of different materials, textures, and patterns.
#7. Modern
Modern kitchens are easy to confuse with contemporary kitchens as both incorporate clean lines and the latest technology. In general, a modern kitchen features frameless cabinetry, simple hardware, very few ornate details, and horizontal lines. The focus of a modern kitchen is the quality and beauty of the materials, such as natural stone, glass, quartz, and stainless steel. Unlike a contemporary kitchen, which may have many patterns combined and ornate patterned tile, a modern kitchen with have few patterns and even minimal veining on natural stone selections.
#8. Rustic
Rustic kitchens feature worn, distressed, and rough hewn finishes, including rough wood countertops and knotty pine countertops. Rustic style kitchens fly in the face of today's modern kitchen with an emphasis on wood, brick, and stone. Many rustic style kitchens feature warm weathered wood beam ceilings and painted cabinets. While similar to a country style kitchen, rustic kitchens have a worn and battered appearance of the furniture, flooring, and cabinetry which are purposeful design elements. Most rustic kitchen furnishings feature wrought iron, antique metal, reclaimed wood, and vintage materials.
#9. Old World
An Old World kitchen is influenced by the classical architecture of Europe with design elements resembling Old English, Roman, and Greek architecture. Old World style kitchens boast bright colors, distressed finishes, and classic architecture to create a warm space for gathering with your family. Free-standing furniture, fireplaces, wooden ceiling beams, and wrought iron pot racks are common in Old World kitchens. Cabinetry is usually dark with light ceilings, walls, and floors. Wood, natural stone, and tile are common materials that add elegance and a sense of permanence.
#10. French Country
French country style kitchens are warm, comfortable, and charming with the perfect balance between chic and earthy design. French country furnishings have few embellishments and multi-functional use. Clear, warm colors dominate with sage, lavender, sunny yellow, brick red, sky blue, and thick creams and ivory instead of white. Open shelving is common in a French country kitchen as well as textured surfaces like natural stone, stucco, plaster, and tile backsplashes. French country decor also tends to incorporate farm animals, birds, florals, and toile fabrics.
#11. Colonial
Colonial kitchens are a great example of early American design from teh 17th and 18th century. These kitchens often incorporate a muted color palette of taupe, white and pale blue with white cabinetry, wood flooring, and exposed brick. Large round whitewashed tables, free-standing furniture, and simple cabinetry are common, but a true Colonial style kitchen also features a hearth.
#12. Eclectic
Who says you need to fit your kitchen into a specific mold? An eclectic kitchen is designed with your own style in mind. You may begin with a modern kitchen that incorporates Mediterranean and farmhouse elements or combine the charm of a cottage kitchen with sleek modern lines and materials. Be warned: an eclectic kitchen can be hard to pull off. When it's done correctly, it creates a cohesive yet unique style, but done wrong, eclectic looks like a mess.
If you want to get a beautiful and modern kitchen remodel in Northern Virginia then contact Beckworth LLC, we have all your roofing and remodeling needs covered. You can call us at  (703) 570-6777 for a free quote, or use our contact form. You can also find good resources on our Blog or Facebook page.